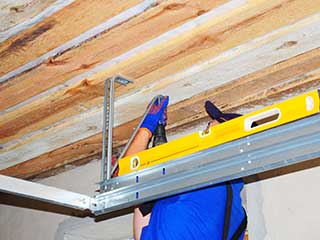 Balance is a good indicator of the condition of your garage door. Obviously, a door with poor balance indicates that something is not quite right. This is the case when it comes to any type of door, from overhead garage types to those with aluminum frames. An unbalanced door should be addressed and remedied as soon as possible. Fortunately, we have repair experts at Gig Harbor who know how to check for misalignment and how to resolve the situation before things get worse.
Importance Of Good Balance
As one can guess, good balance helps the door to operate smoothly. Poor balance negatively hampers the operation of the system as the door struggles to open as easily as it should. This can put a strain on the rest of the garage door parts, wearing them out as well. Eventually, the door parts may start to give in and the door will fail completely, making it impossible to open until the damaged parts are replaced.
Causes Of Unevenness
If your garage door is looking uneven, this is usually due to a tension problem with the springs – it is up to these components to make the opener's task of leading the door up and down the track in a straightforward way. If the springs are not providing enough tension, too much tension, or unequal tension, this can all contribute to a wonky door and cause unnecessary strain on the opener.
Signs Of Poor Balance
There are usually obvious signs that the door's balance is off. First, homeowners will notice that the door feels heavier than usual and that much more effort is needed to open it than usual. Performing balance tests will show that the door will appear to 'sink' towards the garage floor. Closer inspections of the parts will likely show wear and tear particularly in the springs.
What Can I Do?
We always encourage routine garage door maintenance, and at least annual checks by a professional. You should pay attention to the age and condition of your springs and other system components so you're aware of any parts that might be reaching the end of their lifespan. If in doubt, contact our garage door repair professionals in Gig Harbor for help.