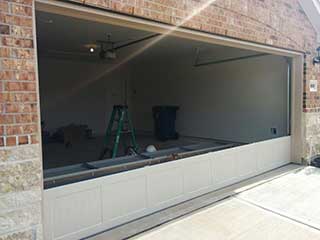 It'd be great if automatic garage doors automatically had no issues. In reality, given the extensive level of use these machines are subject to, they can wear down over time. The do-it-yourself approach isn't the best way to deal with these inevitable breakdowns either; this can lead to serious injury and potential further damage. Dedicated technicians are the answer.
When A Noisy Door Ruins Bedtime
You know you've got problems when a noisy garage door is keeping you awake at night. Multiple causes can be the root of an annoying noise-maker like this. Lack of lubrication or worn rollers could be the pesky culprits, or even worn down anti-vibration pads. With the right technicians on hand to drown out the noise, you can be confident that loose hardware and other such issues will be a thing of the past.
Bum Remotes Aren't Remotely Funny
Another annoying issue that can come up is a remote control that seems to do nothing. If the plastic cover on the remote's radio transmitter gets scratched, you could be looking at a remote on the fritz. In fact, lots of remote control issues have to do with the transmitters – receiver interference from external factors, and general blockage issues that warp the path between the remote and receiver. Every time you click, you can almost hear your garage door taunting, "You shall not pass!" Don't be the butt of this joke when our technicians can get you to the other side.
Stuck Door Woes
While a stuck garage door may garner riotous laughs in a comedy series, when it's your door, these problems can be really stressful. Various things can lead up to this: If your torsion or extension springs are broken and need to be replaced, you door won't go anywhere. Similarly, if the garage door is off track and needs to be put back on, it'll stay put until the problem is sorted. It could also be that something is jammed in the track leaving the door immobile.
Contact Us Today!
Whatever the issue, these are dangerous repair jobs that shouldn't be tackled without professional help, no matter how superhero-esque you're feeling that day. Luckily we've got the technicians (sans capes) to help you every step of the way - and we're ready to get to work right now. Get in touch with Garage Door Repair Gig Harbor for the best assistance around!
We also offer:
New Garage Door Installation
Roll up Garage Door Maintenance
Garage Door Cable Replacement
Remote Opener Clicker Replacement